Specialised - Queen Elizabeth II Pre-Decimal vol.3 12th Ed.
Primary tabs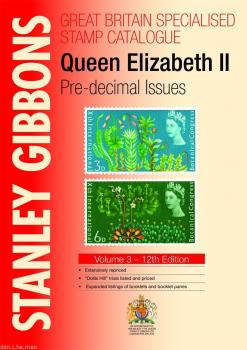 Publisher: Stanley Gibbons
Topic: Stamps
Type: Great Britain
Country/Countries: Great Britain
Page Count: 320
Level of Detail: Specialised
Year: 2011
Cover Type: Hardback
This thoroughly researched and fully illustrated stamp catalogue provides a specialised price listing of all pre-decimal Queen Elizabeth II British postage stamps from December 1952 to the end of 1970.
This catalogue has long been recognized as the standard guide to the early stamps of the present reign and the new 12th edition features an enormous number of additions and improvements, making it absolutely indispensable to collectors of this fascinating period in British philately.
Definitive stamps, commemoratives and special issues, postage dues, regionals and booklets are all covered in substantial depth in this hardback publication.